Choosing appropriate toys for kids on the child's birthday can often leave many parents confused. We have compiled this post that will offer ideas on how to select toys which challenge kids and at the same time nurture their social emotional skills. By the time you are done reading you will have enough information to help you get started.
Children at the age of two become explorers who learn by doing. When you get the right toys for kids, it gives a great opportunity to develop and hone new skills. This becomes much easier when boys for instance have car toys for kids. The unique interests shape the development in the right direction.
Problems Faced in Selecting Toys for Kids
While it may seem exciting the moment you log into an online toy store, however, it is far more overwhelming. It comes down to finding the one which is of good quality and age appropriate. Moreover, many a time's kids don't take interest so as a parent you are looking for something which will engage your little one. It shouldn't be for a few days or weeks rather you want to buy toys for kids that help them in their overall development.
Can toys improve child's intelligence?
This is one question which often arises in many parent's mind so we thought to also shed some light on it. You may have come across packaging and advertisement which makes tall claims such as toys for kids can make the child smarter. While it may be true but we suggest you treat the statement with caution. All these claims are not true or at least they haven't been put to test. As strange as this may sound but pillows, plastic bowls and old clothing have far greater use for the child. This is because it allows the toddler to use their imagination, their mind to think and come up with ideas.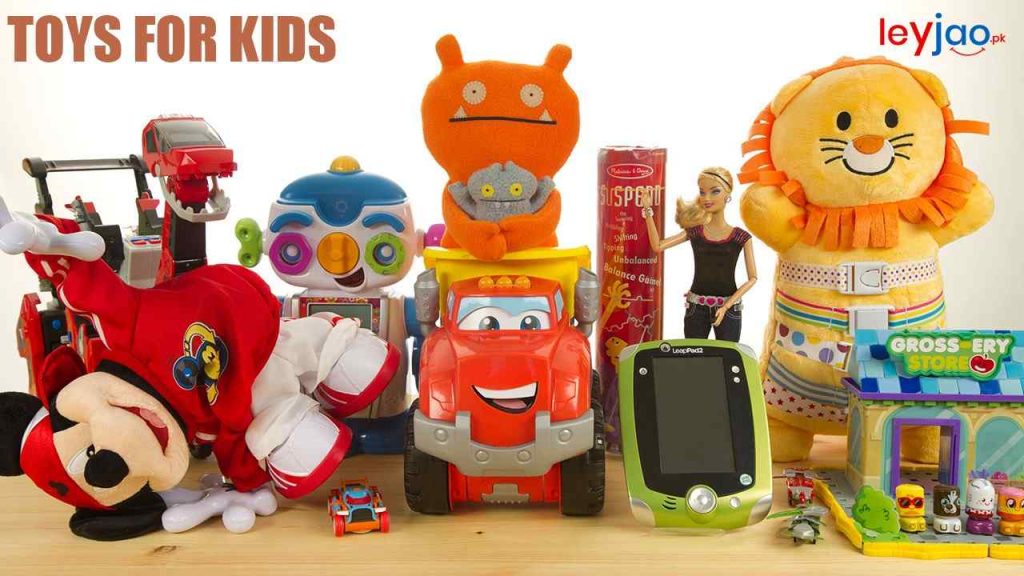 Guidelines for Choosing Toys for Kids
Buy toys that have multiple uses.
Small children have an intriguing nature and they enjoy things which allow them to assemble, pull out and put back together. These open ended sense of toys give the child an opportunity to play many different games at one time.
Leyjao.pk is a one-stop online shopping destination that specifically caters to toys for kids of all ages. You can find wooden blocks which the child can use to make a car, a house etc. Toys like these are excellent choices as they can be used to ignite the child's imagination. At this stage, blocks play a pivotal role in developing logical thinking skills.
Be on the lookout for toys which retains child' interest.
Often parents complain buying expensive toys for kids that the child plays a day or two then loses complete interest. Resolve this particular issue by being on the lookout for toys which are fun and spark the child's interest. Example can be of small plastic animals and action figures. Small kids can act out different situations and play with them. Similarly, for girls doll-houses, stuffed animals and dolls are a good choice.
Encourage the need to explore and instill problem solving skills.
Playtime is undoubtedly the most essential part of kids growing up. It doesn't just keep the child occupied. But also the right toys for kids give them a chance to figure new things out. This act of coaching plays a pivotal role in developing their logical and problem solving skills. Moreover, children also develop spatial skills which are how to fit things together, hand-eye coordination and most importantly, fine motor skills. We suggest puzzles, blocks, art materials like clay, crayons and play dough from leyjao.pk are all examples of what sort of toys to get for your child.
Buy toys for kids that spark child's creativity.
As the child turns three, his creativity takes off and loves to play different characters. You will find them in different space acting like a prince. At this stage the best options are those toys that can be used to act out situations. The act of pretending helps in developing spoken and literacy skills. The child will also learn to put things in a sequence and logical order.
Appropriate examples are of toy food, plastic plates, costumes, action figures, dolls, stuffed animals, trucks, doll-houses, building tools, fire-hose and the list goes on. Something which you will find at home and costs absolutely no money is a cardboard box. As simple it looks on the surface, it is the most useful things you can give to a toddler. This plain box becomes a house, tunnel and even a pirate's ship. Help your child put a thinking cap on and their imagination can take them anywhere, and everywhere.
Combine playtime with books.
Books, art supplies like crayons, markers and paints help the child develop writing and reading skills. At the same time it is always fun for the young one. There are many options such as magazines and books with images.
Combine real stuff into playtime and toys.
As children are growing they become acquainted with the world around them. Things like mobile, remotes and switch board are introduced to them. Kids often imitate their grown-ups so every time they see their mom and dad talking on the phone, they will act that out in the same manner. You can help the child by getting them toys for kids that tap on fine motor skills. Consider few examples kids toy keys, toy phones, plastic cups, dishes, plastic musical instruments, kid-size brooms, brushes and flexible dustpans.
Buying toys that encourage children to be active.
Toddlers are hyper and always wanting to run around but the one mistake many parents make these days is to put them on tablets and keep them occupied with video games. Toddlers are young having far more energy than an adult. Parents should keep the child active by engaging them with new playground toys. This will help to develop physical skills.
Parents can choose balls of different sizes and shapes, basketball, gardening tools according to age and pull-toys.
Conclusion
While we are discussing what the best options are when it comes to toys for kids, we must also pay some attention to the place where we are buying from. There are many online platforms but it is important to ensure the quality before spending money. When it comes to credible sources one can't go without mentioning leyjao.pk which is offering high quality imported goods at a reasonable price range.
Everyone wants to get the best value without spending a fortune. This is why it is also recommended to do a survey and check the reputation before buying something online. Leyjao.pk is making rounds on the Internet for toys for kids Pakistan but before you head out to place orders online make sure that the website is verified. Take some time to study what they are offering and how many ratings have they received on their items. It is a great way to determine whether it is worth spending money. There are many deals and promotions that you can get your hands on. Always keep a lookout for such offers as you can get very good stuff at nominal rates. We hope this article will help you with all your future shopping.