We all know how strict Apple is when it comes to keeping the features exclusive to its devices; iPhone, iPad, iPod, Apple Watch, and MacBook. When Apple announced that it will be releasing Apple FaceTime for Android, it raised a lot of eyebrows and dropped lots of jaws.
It's not a secret that Apple is one of the most powerful companies in the world. However, lately, they have also been increasingly criticized for being too elitist. It seems like they are only interested in making products for the iPhone and Mac users, so they are now developing new features to make it possible to FaceTime on an Android phone.
Though many people may be skeptical of this move, there are some benefits to using FaceTime on an Android phone. Here are some reasons why you should use FaceTime on your Android phone.
The questions started to arise; why Apple did that? Would it be free? How to use it on Android? And a lot more.
If you have similar questions in your mind then you're at the right place.
Here we have gathered every piece of information and every answer that you are looking for about using, limitations, and features of Apple FaceTime for Android.
Apple FaceTime For Android: How it Works?
As soon as you heard the news, you must have rushed to the Google Play Store and searched for Apple FaceTime. You must be very disappointed to see that there is no actual app for it, yet.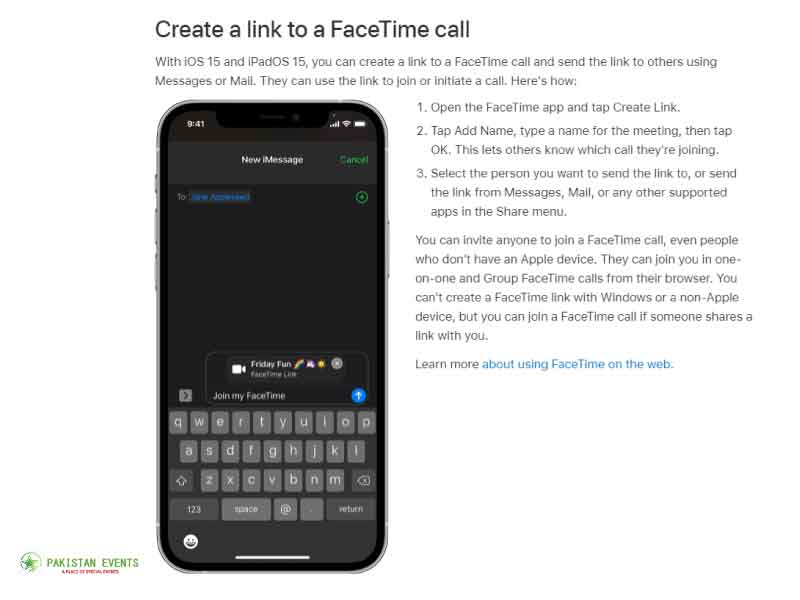 We don't think there will be an Apple FaceTime app for Android on Google Play Store anytime soon. This is Apple's way of saying that they maybe have opened its services to other platforms but still, they control everything.
If you have been left out of the FaceTime group calls, then you can be relived because you can join audio and video FaceTime calls from your Android phone.
See, this is the catch.
Android users can not start a FaceTime call by themselves at all. They can only join the calls when invited by Apple users.
Here's how Android users can join a FaceTime call
Whoever has an Apple device can start an audio or video FaceTime call. They have to invite the Android user through a link. The link can be sent through any instant messaging app easily.
The Android user has to open the link in the browser. Once the page opens, the Android user will have to enter their name in the box and press continue.
And there you go, just joined a FaceTime call on android.
Although it is an outstanding feature, many people have been wondering what pushed Apple to do that. Well, there is an answer for that.
Why Apple Introduced FaceTime For Android?
Apple and Android have been the biggest competitors lately. Until now, Apple has kept many features exclusive to its devices. On the other hand Google, that developed Android, has ported all of its applications on every platform including iOS.
What pushed the idea of Apple FaceTime for Android might have been called a mystery if the circumstances were different and we didn't go through a world-changing pandemic.
One of the biggest and most unexpected technological thing that bloomed in the pandemic was Zoom. People ditched Skype, Discord, FaceTime, and Google Meets jus to switch to Zoom for various purposes, as it offered many features.
Apple's reasoning behind enabling cross-platform usability for FaceTime is to take over Zoom. Although it might not seem like a big deal but Apple losing the FaceTime users is actually a really huge deal.
That is because we have seen and heard the hype of FaceTime until not too long ago. All the Apple users were having encrypted video and audio calls. They are secure, handled by Apple's security experts and had exceptionally outstanding quality.
Apple is now claiming that the FaceTime calls between Apple & Android or Apple & Windows devices will be encrypted.
You Read it Right, FaceTime is Coming to Windows as Well!
However, in all the hype of being able to use Apple FaceTime for Android, a lot of us really overlooked the fact that FaceTime will be usable on Windows as well.
You can use FaceTime on any windows device; a Computer, Laptop, or your Microsoft Surface as well. This creates a great communication bridge among different platforms and will surely attract new users as well.
For instance, if you are getting connected to a seller on a China B2B platform, you can add FaceTime as a communication option as well. It's fast, safe, and secure.
Something You Should Know About — The Limitations
Similarly, there is something that we didn't mention above. The communication bridge between different platforms will be created with the release of iOS 15. It means that people who are on older devices that are out of iOS 15 support list won't be able to benefit from this feature.
The list of devices that will support iOS 15 is:
iPhone SE (First Generation)
iPhone 6s
iPhone 6s Plus
iPhone 7
iPhone 7 Plus
iPhone 8
iPhone 8 Plus
iPhone X
iPhone XR
iPhone XS
iPhone XS Max
iPhone 11
iPhone 11 Pro
iPhone 11 Pro Max
iPhone SE (2020 Edition)
iPhone 12
iPhone 12 Pro
iPhone 12 Pro Max
iPhone 12 Mini
As you can see, all the devices older than iPhone 6s, which includes iPhone 6/6 Plus, iPhone 5/5s/5C, and older devices won't be getting the iOS 15 update. Hence, it is obvious that users with these devices won't be able to use FaceTime as a cross-platform communication thing.
Anyhow, it's still debatable as Apple might consider releasing the standalone FaceTime update for the older devices, fingers crossed for that!
Wrapping it Up!
So, are you looking forward to join your friends on a web-browser based FaceTime call using your Android device or would you invite your friends on Android to a FaceTime call with you?
With so many options available, this step by Apple seems a little late but as we have seen how Apple has come up with genius ideas in the past, we can keep our hopes up.
Let's hope that it all works out smoothly and everyone has another safe and secure communication platform to connect for business or personal uses soon enough!