Kareo EMR Software – Introduction
Kareo has been here for a while and is one of the most widely used EMR systems on the market. The Kareo is one of the top EMR for practices with 1-10 consultants due to its comprehensive capabilities to fulfill the requirements of independent practices and their patients. Kareo offers a web-based EMR Software that you can access at any time from any location. Get the ultimate guide of this software from us.
The EMR software integrates with a Practice Management System to help you boost your clinical and administrative tasks from a centralized location. The EMR assists various medical specialties, including Neurology, Cardiology, and Podiatry.
How Do Users Benefit From Kareo EMR?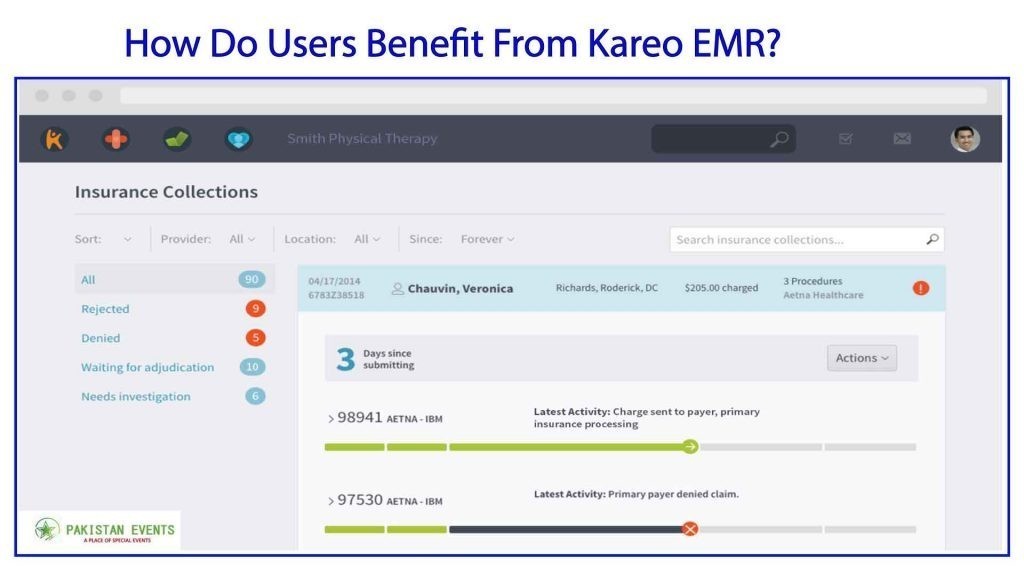 Healthcare providers highly applaud Kareo EMR, especially those with small setups, as Kareo offers efficient features at an affordable cost. The EMR Software comes with various features to enhance your workflow. We have reviewed the top features of Kareo EMR below.
Real-time dashboard
In Kareo EMR, you have access to a complete dashboard that allows you to keep track of everything essential in your medical practice. The interface is user-friendly and will enable you to rapidly go through all of the functions without spending much time. You can update your daily schedules, access your calendar, and navigate any other feature within minutes.
Patient Portal
It might be exhausting for a physician to arrange appointments, issue appointment reminders, and fill out paperwork after paperwork. However, with Kareo EMR's patient portal function, you can relax on certain aspects.
Patients can arrange their appointments using the Kareo EMR patient portal. The software also gives appointment reminders to patients automatically, lowering the frequency of no-shows at your clinic. Aside from that, the software allows you to securely connect and communicate with patients via a messaging and video conferencing platform.
Customized Templates
The software has several pre-built templates that you may personalize and link to a particular appointment type. When a patient arrives, this tool assists you in automatically creating the relevant note template. You can customize these templates further based on the practice's procedure and your preferences.
Electronic Prescription
This function saves both physicians and patients time by reducing the time it takes to write a prescription and have it filled. When a patient requests a refill, the e-prescription function in Kareo EMR allows you to send information to pharmacies instantly.
The e-prescription tool in Kareo EMR alerts you to any potential drug interactions that you should be aware of. It also tells you whether a patient has any allergies that you should be conscious of before writing a prescription.
Easy Appointment Scheduling
You can streamline a lot of processes for yourself using the Kareo EMR calendar functionality. The calendar can assist you in customizing your plan and creating a complete timetable that addresses all of your requirements. You can keep detailed schedules for both patient appointments and staff scheduling at the same time.
If you're an individual user, you can also color-code and modify your preferences on the calendar. The drag-and-drop appointment scheduling feature in Kareo EMR makes it much easier to change calendars as needed.
Kareo Telehealth
Telehealth is becoming a need for medical procedures in the event of a pandemic. Kareo has a Telehealth function that allows you to connect with patients from anywhere and at any time. Patients can use telehealth to virtually follow treatment programs and administer drugs, resulting in better health outcomes.
Similarly, telehealth's primary significant benefit to a medical practice is that it minimizes no-shows. Patients seeking follow-up appointments and convenient care no longer need to worry about finding conveyance or taking time off their jobs.
Kareo EMR Demo
The first and most crucial thing for you is to schedule an EMR demo before directly making the purchase. A demo can represent an excellent opportunity to collect valuable information about EMR Software.
The demo allows you to analyze the software in an actual setting. It can help you determine whether the EMR Software you're about to implement in your medical practice is appropriate to your procedures and whether it will help you improve your workflow or not.
Kareo Pricing
Kareo EMR is the top choice for small practices as the cost is reasonable. You can purchase the software at a monthly subscription cost that includes no contract or set-up fees, as well as the worry of software maintenance and updates.
Unlike other software in the market that require considerable upfront costs, Kareo's subscription covers the cost of implementation and training, making it a sensible option for small practices to get established.
Kareo EMR Reviews
Kareo EMR reviews give you a better picture of the software and allow you to view how the actual users perceive it. The pros and cons of Kareo are summarized below.
Pros
The user interface of Kareo is simple to use, especially for users who are not tech-friendly.
The dashboard is excellent, with a lot of features and a clean, professional appearance.
Customer service is also good, and they respond quickly to all your questions.
Cons
Navigating through the software to locate the information you need can be challenging at times.
The cost of transferring data is high, and many individuals and small practices may not be able to pay it.
When compared to Kareo's competitors, there are limited customizable features.
Our Two Bits about Kareo EMR Software
Kareo is a leading software that can help you improve your workflow. The EMR Software is competitively priced, and it has managed to make a dedicated following. The numerous features of Kareo EMR make administrative and clinical tasks easier to manage. Overall, Kareo is one of the top Software because it is an affordable, easy-to-use, cloud-based EMR solution that makes your practice progress further.
`MYWIFIEXT SETUP
Digital Business Card Size
Kareo EMR
What Are Chatbots?
Programming Language
C++ Programming help
In conclusion, we can't say whether Kareo EMR will be a good fit for you, we can highly recommend reading as many EMR reviews as possible online to get an idea of what the customers say about the software. Aside from that, we recommend requesting a Kareo EMR demo from the seller to determine if the software will meet your needs and perform as well in practice as it does in theory.